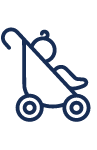 Amenities for children
On the premises there is a special room for parents with children, a car-stroller rental and vending machines for children, which significantly increase the comfort of shopping with the youngest. In the foodcourt zone, there is a specially prepared microwave oven, where you can quickly and conveniently heat a meal for a toddler, and in the car park there are dedicated parking spaces for families, located close to the entrances to the Passage.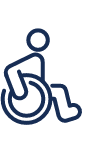 Amenities for disabled persons
In order to ensure convenience and comfort for people with disabilities, the Shopping Center has clearly marked parking spaces and a properly adapted toilet.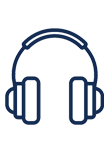 Mute headphones
For children sensitive to sounds, we have prepared the possibility of renting mute headphones for the time of shopping in our center. Please ask the property security for the headphones.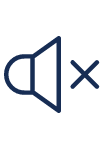 Silence hours for persons with autism spectrum disorders
Auchan Hypermarket in cooperation with the Shopping Center runs the "Hours of Silence" campaign. Every Tuesday, between 15.00 and 17.00, music and messages are muted in the hypermarket and gallery, and the lighting is dimmed and all TVs are turned off.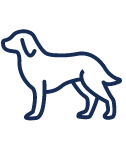 Pet lovers-friendly shopping centre
People walking with pets can enter our Center with their pet.
There is also a special place to leave your pet, in which there is a bowl of water.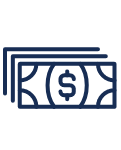 Exchange / ATM / Cash deposit machine
We ha­­ve all forms of trans­­a­c­tions, from mo­­ney excha­n­ge to mo­­ney wi­­th­dra­­wal and de­­po­­sit.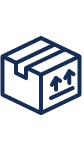 InPost and DPD parcel boxes
The pa­r­cel boxes al­lows you to send and re­­ce­­i­ve pa­c­ka­­ge in a qu­­ick and easy way, 24/7.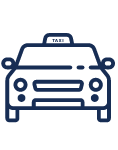 Taxi stop
Clo­­se to the ma­­in en­tra­n­ce the­­re­­'s a ta­­xi stop which ma­­kes the co­m­mu­­ni­­ca­­tion with our Ce­n­tre even easier and mo­­re co­m­fo­r­ta­­ble.

Bicycle repair station
There is a free self-service bicycle repair station in the Center, equipped with basic tools and accessories.

Photo booth
In the vicinity of the main entrance, you will find a device for self-taking photos – both for official documents and for fun, commemorative and occasional photos.

High chairs for feeding children in the catering area
For the comfort of our youngest customers, in the gastronomic zone of the Kometa Shopping Center you will find special publicly accessible high chairs for feeding children
Free wi-fi
Join the free Wi-Fi network and surf the Internet while shopping at Kometa!

Bicycle stands / TorVelo city bike station
We understand the needs of customers who come to Kometa on bicycles. It is with them in mind that we have placed bicycle racks in front of each entrance to our Center. In the parking lot of the Kometa Shopping Center there is also a TorVelo system city bike station.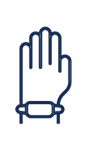 "Niezgubka" headband for children
In order to ensure the safety of children and peace of mind for adults, you can receive special wristbands for children in our Center.

Collection of batteries and small household appliances
In CH Kometa, you have the option of returning used batteries and small household appliances.
Phone charger
A discharged phone while shopping in CH Kometa is no longer a problem. On the passage, near the flower shop, there is a phone charging station, where you can conveniently charge your devices during a break in shopping.
SUBSCRIBE
Subscribe to our newsletter and stay up-to-date! See you there!
Be up to date!
We will inform you about the latest events and promotions.